And How the Right Software Will Maximize Your Forest Management Efforts
In this blog, we'll cover:
Being a software and consulting company in the forest industry, we understand the unique challenges that forestry companies face daily, not just in Canada but globally. This blog intends to inform you of the importance and value of cloud-based forestry software that utilizes leading technology and how it can contribute to your organization's success.

1. What is Forestry Software?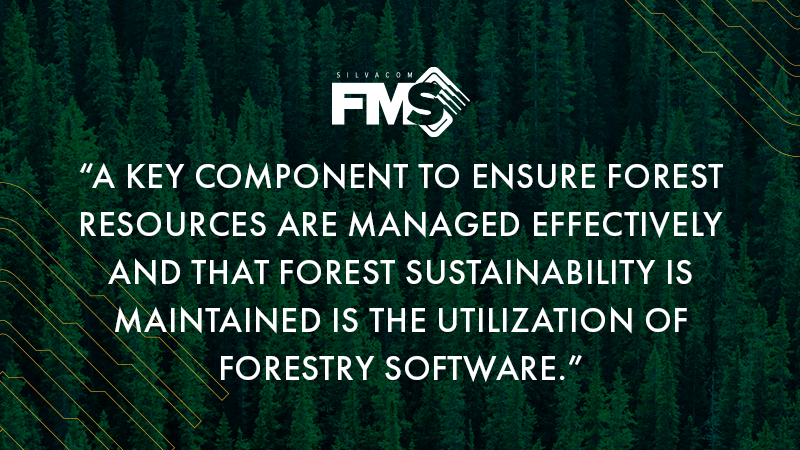 Sustainable forest management is a complex science involving several disciplines to ensure forests are harvested and reforested in a responsible manner. As the world's population grows, increasing demands from our planet's forest resource is inevitable. Forestry companies must practice sustainable forest management to ensure natural forest landscapes and their related benefits are available for generations to come. Given this, forestry companies are faced with managing a complex array of business and environmental requirements that vary depending on the jurisdiction in which they operate. A key component to ensure forest resources are managed effectively and that forest sustainability is maintained is the utilization of forestry software, or a forest management information system, that helps users plan and execute all their forest operations.
Modern forestry software provides a digital platform that enables users to complete the complex workflows required to meet business, environmental and jurisdictional requirements (e.g., such as any government submissions, forest stewardship council (FSC) reports, or sustainable forestry initiative requirements or expectations). This complexity is illustrated in the graphic below - if it looks complicated, it's because it is! To operate and remain competitive in today's environment, forestry companies must be capable of securing and balancing the flow of fiber or logs through planning to ensure the facility can remain operational and operate at capacity. ​In addition, companies must also track harvesting, hauling and silviculture functions while reporting and accounting for all these activities internally and to 3rd parties. In several geographies, like Canada, navigating rigorous stakeholder, consultation and regulatory reporting requirements can add another layer of complexity, which results in digital platforms to manage this information being essential.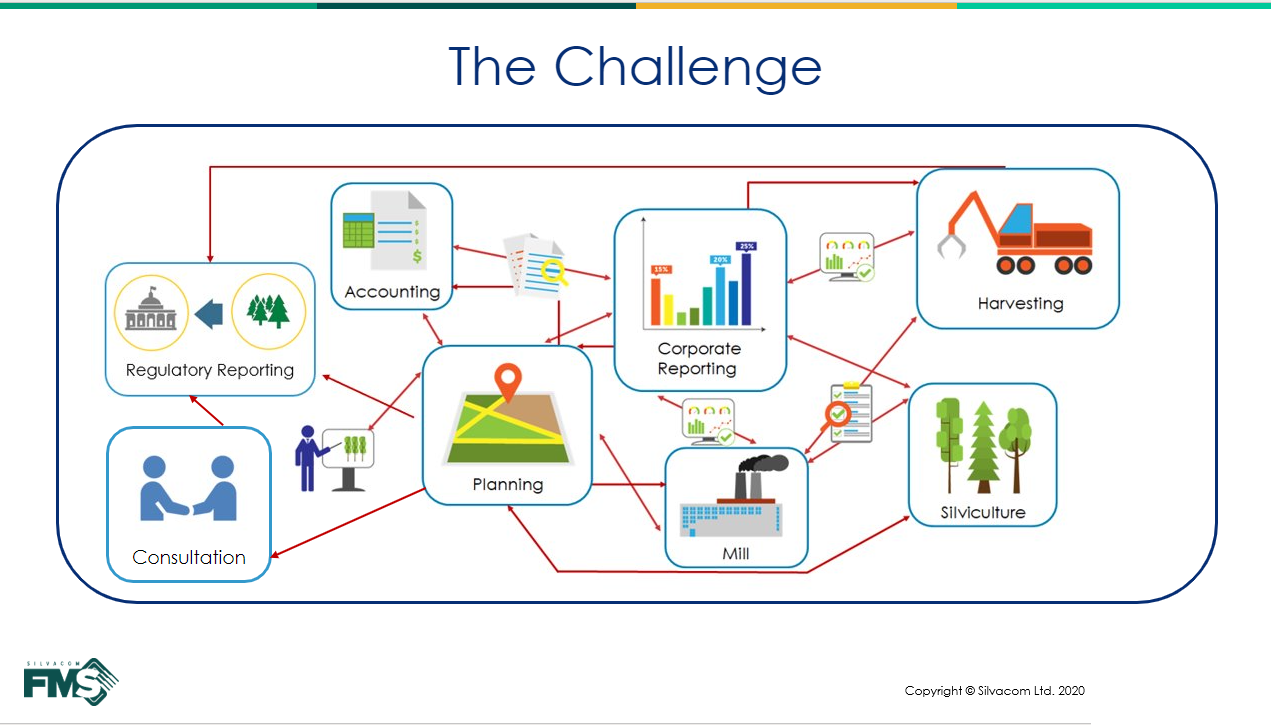 Among the elements described above, geospatially enabled forestry software platforms help companies manage all their data in a centralized database, allowing users quick access to necessary information like:
Harvesting operations
Fiber/log tracking
Road and infrastructure management
Silviculture costs and liability
Forest inventory
Map products
Business, stewardship, and regulatory reports
And more
Forest planning and management varies across the globe and companies worldwide need comprehensive forest management software to access, manage and analyze data and products, which is key to practicing sustainable forest management. In Canada, forestry companies need to meet strict regulatory requirements, which is why forestry software needs to be adaptable and scalable to meet each province's unique requirements.

2. Who Uses Forestry Software?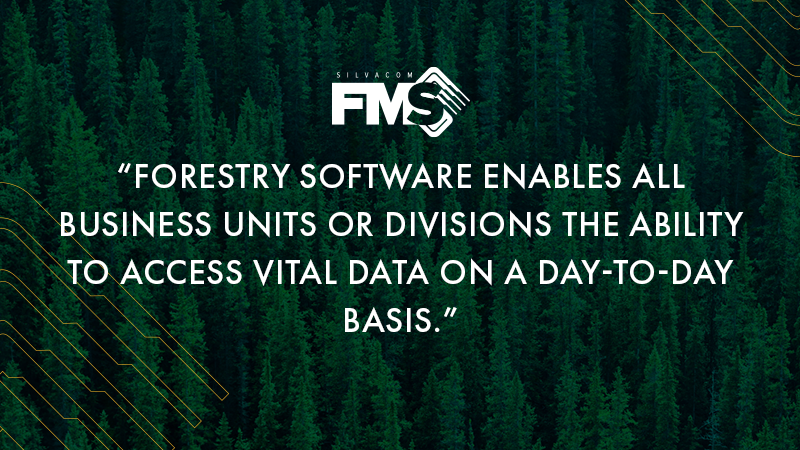 Forestry software can be used by government agencies to manage their obligations; however, systems are primarily utilized by forestry companies who:
Need a system to help plan, manage and measure their forest operations
Want to keep their data and teams connected (and have one centralized location for all their forest management information)
Want to utilize leading technologies without having to build something themselves (or hire a specialized team to develop and maintain a system)
Are looking for an easier way to meet jurisdictional requirements
Want to automate administrative duties and standardize workflows
Want to help reduce industry risk and liability
Forestry software enables all business units or divisions, whether it's planning foresters, silviculture foresters, GIS analysts, those in field operations or any data managers the ability to access vital data on a day-to-day basis. For upper management like woodland managers, business managers and other executive-level teams, they have access to vital information rolled up into easily digestible dashboards for quick overviews with the ability to run high-level reports whenever necessary.

3. What are the Benefits of using Forestry Software?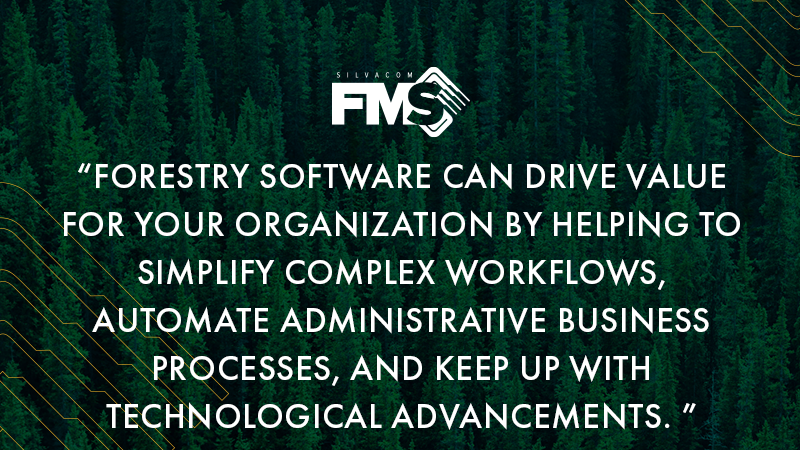 Forestry companies need to plan temporally and spatially, and they need a forest management information system integrated with a geographic information system (GIS) to accomplish this planning. A modern system that enables them to view and interact with all their forest data so they can plan and forecast all their forest management activities is integral for companies looking for a comprehensive system to simplify their forest management efforts, including the following tasks:
Storing and enforcing data integrity
Task and issue management
Forecasting
Harvest planning
Road management
Silviculture planning
GIS mapping
Tracking inventory
Managing contracts
Facilitating sustainable forest management activities
Simplifying business and regulatory reporting
Connecting teams, other business divisions, contractors, stakeholders and Indigenous communities, etc.
And much more
Keeping it Simple
Forestry software, especially ones that utilize a Software as a Service (SaaS) approach, can drive value for your organization by helping to simplify complex workflows, automate administrative business processes, and allow your organization to keep up with technological advancements.
Additionally, forestry software can also facilitate collaboration within your organization. Whether it's with your teams, stakeholders, various divisions, Indigenous communities or contractors, forestry software can give anyone who needs access the ability to view the information they require, helping to keep everyone on the same page and working towards the same goals.
Leveraging forestry software will streamline business processes, removing the need to hire additional people to manage these tasks, lowering your operating costs in the long run.

4. How is GIS Used in Forestry Software?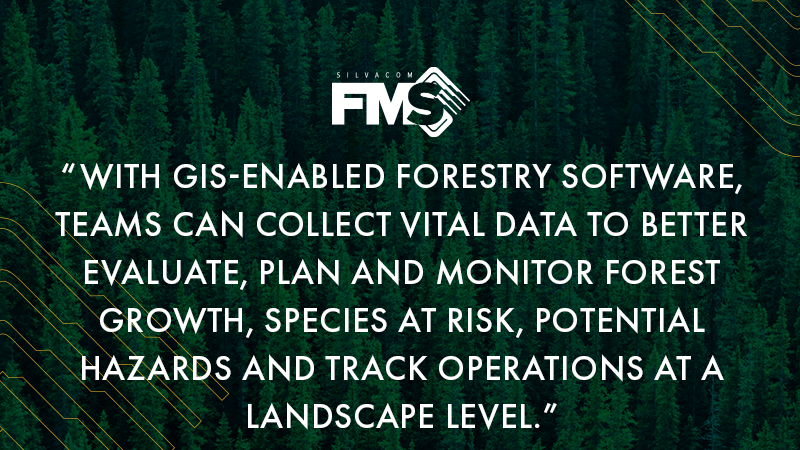 Technology advancements in GIS have contributed to many improved aspects of the forest management process, helping foresters to better monitor, manage and map their forests, maximize value and reduce costs. With GIS-enabled forestry software, teams can collect vital data to better evaluate, plan and monitor forest growth (e.g., derived LiDAR products), species at risk, potential hazards (like forest fires and pests) and track operations at a landscape level.
GIS is a powerful tool that should be available to forest stewards who lean on the spatial and tabular information provided to them to make informed business decisions to ensure sustainable forest development, ensure operational efficiency and safety, and adhere to organizational and jurisdictional pressures. Forestry software that puts the power of GIS into the hands of all users is integral in ensuring that organizations can realize a tangible benefit while leveraging data required to manage a forest and keep their business at the forefront of the industry.
At the forefront of GIS technology is Esri, a global leader in providing core geographic information systems software. Software products or services that are built off an Esri platform are considered best in class. Utilizing Esri technology as a basis for software offerings can enable the development of products that reduce time-consuming administrative work usually required to be completed by GIS professionals. This way, your GIS staff can be afforded more time to perform complex analysis, which adds significant value to your organization.

5. What is Cloud-based Forestry Software?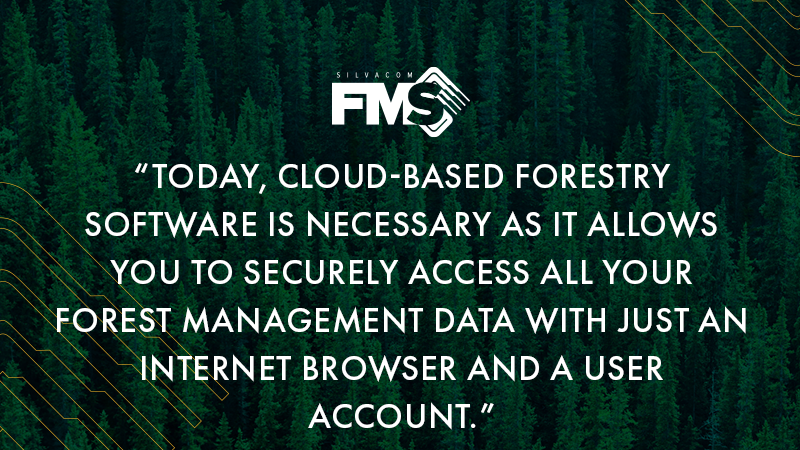 Cloud-based means that the software is hosted on the internet, rather than on local servers or personal computers. Not all forestry software is cloud-based, but it should be something you look for when deciding which software to invest in as cloud-based forestry software has many benefits. Today, cloud-based forestry software is necessary as it allows you to securely access all your forest management data with just an internet browser and a user account, allowing you and your team to easily access all your information from wherever you're working.
This remote access is vital in the forestry industry. You've got employees and contractors working from home, at different sites or mills, on the road or in the field, so keeping everyone connected and updated is crucial to ensure your forest management efforts are as efficient and accessible as possible.

6. The Importance of Forestry Software that Utilizes Leading Technology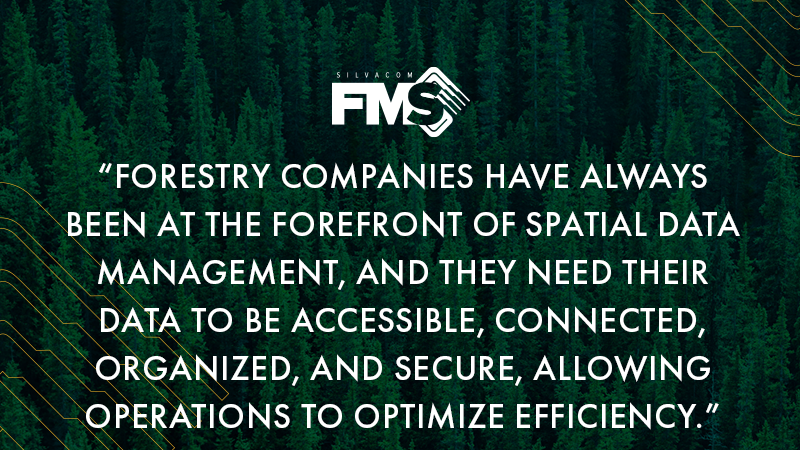 Forestry companies have always been at the forefront of spatial data management, and they need their data to be accessible, connected, organized, and secure, allowing operations to optimize efficiency.
However, not all forestry software utilizes leading technology, security practices or updates its features to keep up with technological advancements, which is counterproductive as forestry companies must keep up with the industry to maintain a competitive advantage.
To learn more about why software technology is so vital in forestry, check out our blog!
Technology-focused software can help the forest industry in some of the following ways:
Help streamline processes
Create a consistent, centralized database
Assist with tactical and operational planning
Support strategic planning efforts
Automate workflows
Make GIS easier and more intuitive
Keep teams connected
Increase accessibility through cloud-based availability
Keep sensitive data secure
Reduce administrative data management
Make government submissions faster and easier
To see how Mercer International stays current with technology by utilizing our forestry software, Silvacom FMS, check out our customer success case study by clicking below.

7. How to Save Money with Forestry Software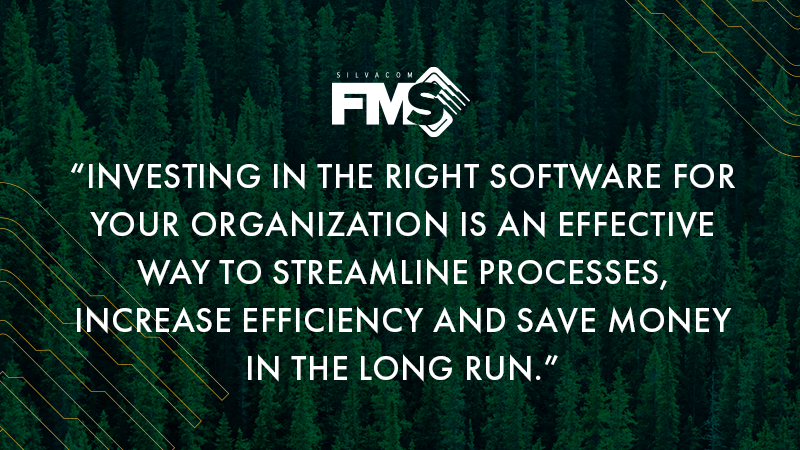 While the initial investment in quality forestry software might feel expensive, it's important to focus on the total cost of ownership and the full value. Investing in the right software for your organization is an effective way to streamline processes, increase efficiency and save money in the long run.
To save costs, look for forestry software with a subscription fee that includes things like:
Software licensing
Data hosting
Maintenance
Top of the line security
Routine backups
If your forestry software doesn't include these as part of the overall subscription fee, it can become costly and difficult to maintain, so ensure you choose a software vendor that takes care of all of this for you.

8. How Forestry Software Can Help Lower Risks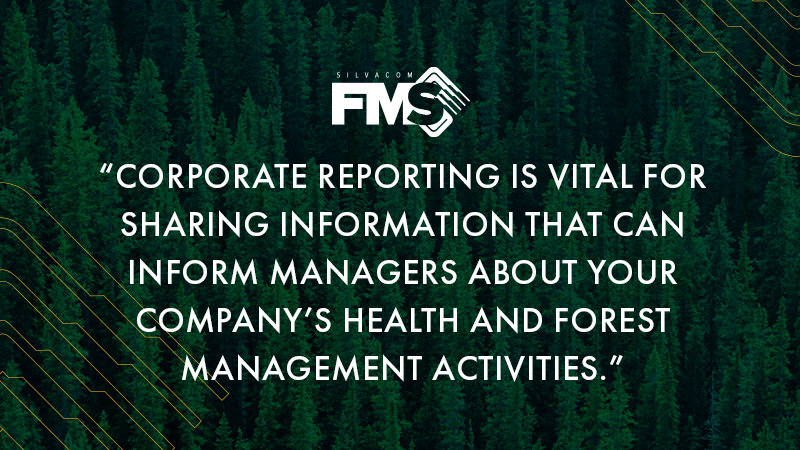 With forestry software, you can better prepare for and lower potential risks through:
User Permissions
Choosing software with the ability to define and control user permissions helps ensure everyone has access to the information they need (or don't need), which helps keep your sensitive data protected.
Data Security
Forestry software that offers best-in-class data security, routine backups and regular updates means you never have to worry about in-house infrastructure failures or server updates—You can be confident your data is secure and protected.
Liability Management
Look for software with excellent data security, interconnected data models, and a dedicated support team to reduce the risk of underestimating planned liability to help keep your organization better prepared and up-to-date.
Single Source of Truth (database of truth)
Selecting software that centralizes your data is vital, so forestry companies need to ensure all their users work in the same forest management information software. This "single source of truth" allows your team to understand the big picture of your data, along with a clearer understanding of any current or future risks, so you're better prepared and confident you're always accessing the most current updates.
Corporate reporting (ability to report at a high-level)
Choosing quality forestry software that centralizes your data helps you see what has been updated, when and by whom, allowing comprehensive, high-level reporting with relative ease. This corporate reporting is vital for sharing information that can inform managers about your company's health and forest management activities. These reports must be accurate and complete to gain buy-in, meet regulatory and jurisdictional requirements, and help decide where to focus vital resources to increase efficiency for your organization.

9. When Should you Adopt Forestry Software?
When data management, task management and balancing the activities required as a steward of the land becomes overwhelming or challenging, it's time to consider adopting a cloud-based forestry software.
While most forestry companies are using some form of software, adopting a leading forestry software platform should be a priority for teams who need to keep track of all their activities and their data.

10. When Should you Switch Forestry Software Vendors?
Switching forestry software isn't always an easy decision, and there are many factors to consider when deciding whether it's time to make the change. However, this complexity shouldn't hold your organization back from making a change that could drive significant business value for years to come.
The seven signs it's time to consider switching forestry software:
You don't see the same value anymore
It's not user-friendly
"We've always done it this way"
It's not hosted in the cloud
Customer support is lacking
Lack of forestry knowledge
It hinders rather than helps collaboration
For a more in-depth look at each of the seven signs, visit our blog on the topic!
Great software should feel irreplaceable—it should genuinely help you do a better job. While it's often hard to cut your losses on a significant investment, suffering with an inferior product that doesn't drive your business forward is worse and will cost you a lot more in the long run.

11. How to Choose the Right Forestry Software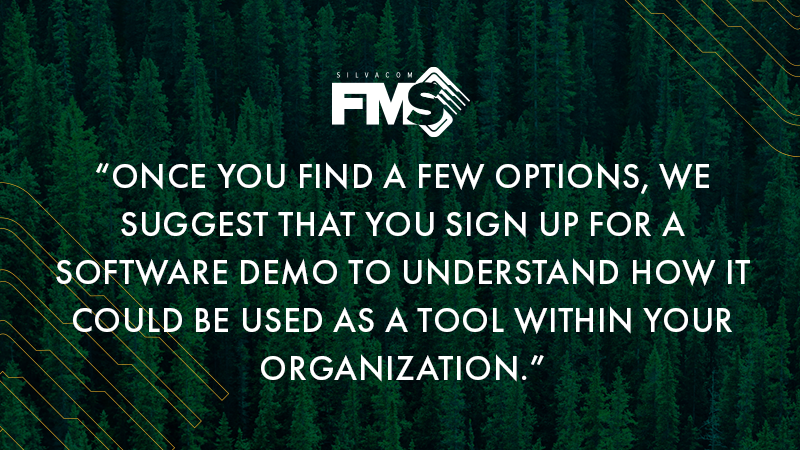 While there are several software options on the market today, they vary in their technological, security, and customer support options, so you want to take your time to choose the best forestry software for your company.
When you start researching options with your team, make a list of all your must-haves and nice-to-haves for your ideal forestry software and begin exploring options that might meet your needs.
Once you find a few options, we suggest that you sign up for a software demo to understand how it could be used as a tool within your organization. During a demo, you can see the forestry software in action and ask questions.
You can also reach out to forestry software vendors directly to discuss your questions, concerns and challenges—they should be happy to talk with you and understand your business enough to help you work through your software evaluation checklist in a no-pressure environment.
To see our forestry software, Silvacom FMS in action, signup for a free demo!

12. What is Silvacom FMS?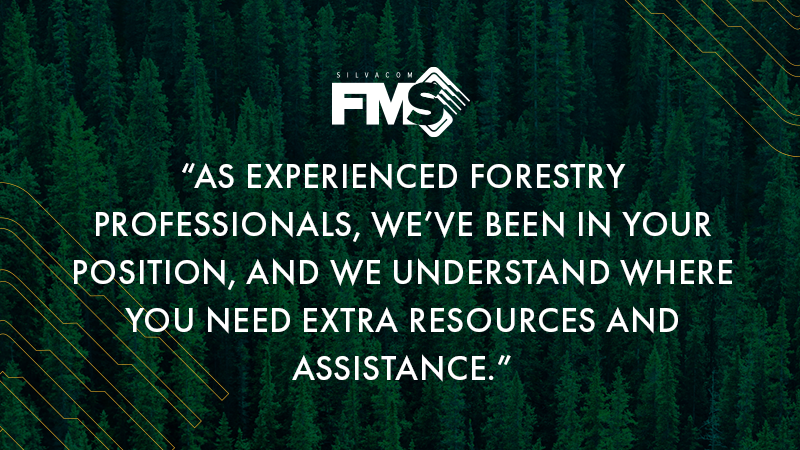 Silvacom FMS is made by forestry professionals for forestry professionals. We understand your business, challenges and needs. Our Esri-based geospatial forestry software solution is hosted in the cloud and offers sophisticated, powerful and easy-to-use workflows. The integrated system of geospatial cloud-based forest management applications empowers forestry companies to easily plan harvesting activities, track operations, manage silviculture, generate georeferenced maps and much more.
As experienced forestry professionals, we've been in your position, and we understand where you need extra resources and assistance. With Silvacom FMS, you not only gain access to our comprehensive cloud-based forest management software, but you also access our responsive and effective customer support team. We designed Silvacom FMS to deliver the most value possible—every single feature is designed for you and your team to streamline your operations and keep you focused on your goals while lowering your risks and your long-term costs.
To learn more, check out our Why Silvacom FMS page!