How a Silvacom FMS subscription will help your forestry team work more efficiently and reduce organizational costs

As forestry professionals, we understand the unique challenges that the forest industry faces. We created our Silvacom Forest Management System (FMS) to tackle those challenges, allowing you and your team to get back into the field, doing the jobs you are uniquely suited to do.
We know that cost is a significant factor when it comes to making forestry software investment decisions, so, we've written this blog to help you understand how Silvacom FMS can help you and your team to plan more effectively and to manage and measure your forestry operations while helping you to reduce costs in your operations.
Looking for more information on forestry software? Check out our blog on What is Forestry Software?
What is Silvacom FMS?
Silvacom FMS is an Esri-based geospatial forestry software solution hosted in the cloud that offers sophisticated, powerful and easy-to-use workflows. The integrated system of geospatial cloud-based forest management applications empowers forestry companies to easily plan harvesting activities, track operations, manage silviculture, generate georeferenced maps and much more.
Simply put, it makes managing your data easier!
How Does Silvacom FMS Help Save Money?
1. Removes the Need for Expensive Infrastructure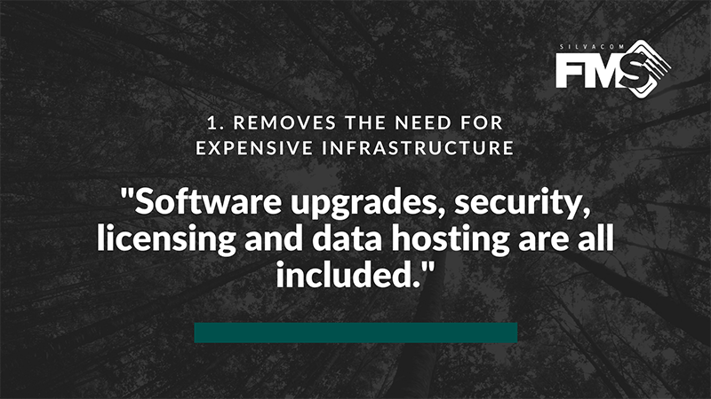 With Silvacom FMS, your data is managed in our digital, cloud-based solution. You never again have to pay upfront software licensing fees, invest in your own infrastructure, or hire specialized staff to build and maintain an expensive system. Software upgrades, security, licensing and data hosting are all included. This bundling is unique because other software on the market requires you to have a full technical team to manage it. With Silvacom FMS, we take care of everything.
The low-cost subscription rate covers all costs associated with:
Software
Hosting
Maintenance
Support
2. Connects Your Operations and Your Team to Reduce Bottlenecks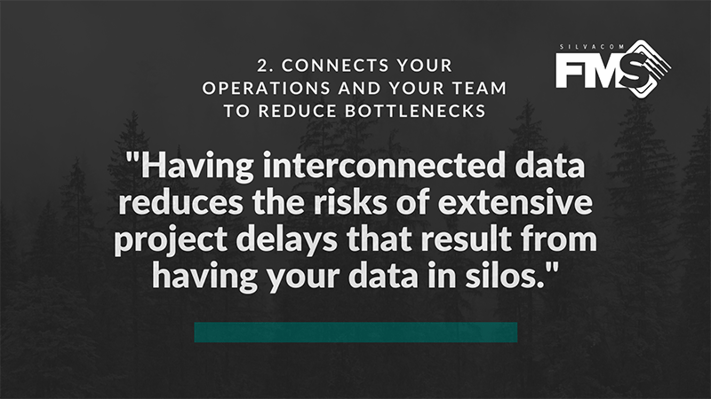 We designed our software to bring all your forestry information together in one easy-to-access space.
Whether it's:
Harvest planning
Road management
Silviculture planning
Mapping
Having your information centralized, yet fully accessible in the cloud helps to keep your team on the same page and keep your projects moving forward. Having interconnected data reduces the risks of extensive project delays that result from having your data in silos.
3. Gets Your Forestry Staff Back into The Field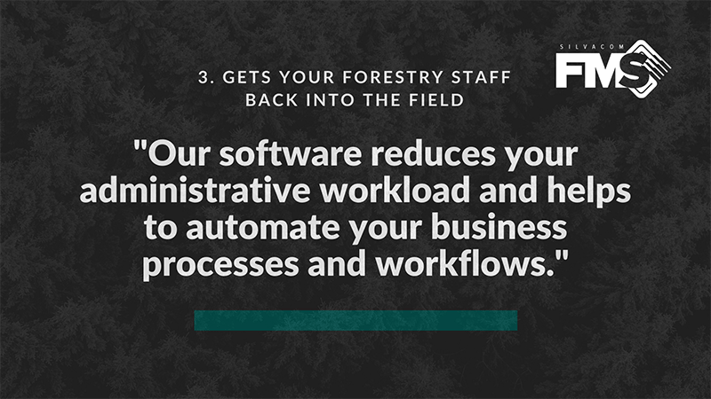 With Silvacom FMS, there's no more time wasted trying to manage your data and no more confusion on the status of your operations. Our forestry software reduces your administrative workload and helps to automate your business processes and workflows.
Our software makes your forest management efforts much more manageable because your data is centralized and accessible in the cloud, allowing you and your team to quickly do things like:
Plan harvesting activities
Track operations
Plan and track silviculture
Generate georeferenced maps
If you do need help, your subscription includes access to our renowned Canadian-based customer support team. Our team includes technical gurus, GIS experts and forestry professionals, and they're trained to solve your problems fast and effectively, essentially becoming part of your own team. By relying on our team to help streamline all your key forestry data with our secure, cloud-based software, you're freeing up you and your team to get back to all your other important tasks.
4. Reduces Risk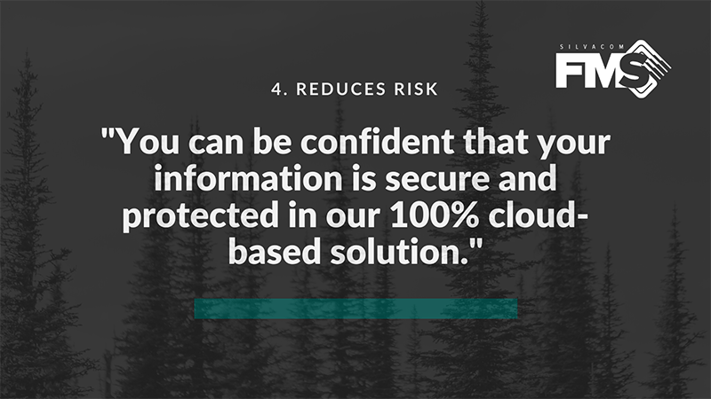 Data Security
You can be confident that your information is secure and protected in our 100% cloud-based solution. With best-in-class data security, routine backups and regular updates, you never have to worry about in-house infrastructure failures or server updates.
Regulatory Submissions
Silvacom FMS allows you to plan, track, manage and report efficiently across your entire enterprise, to integrate with third-party apps, and to expedite the government submission process. With our forestry software, you will streamline your regulatory submissions (spatial data, reports, maps, etc.), which will help you to meet key regulatory deadlines.
Liability Management
With our best-in-class data security, interconnected data model and outstanding support team, you will reduce the risk of underestimating planned liability, helping to keep your organization better prepared and up to date.
5. Puts the Power of GIS in your Team's Hands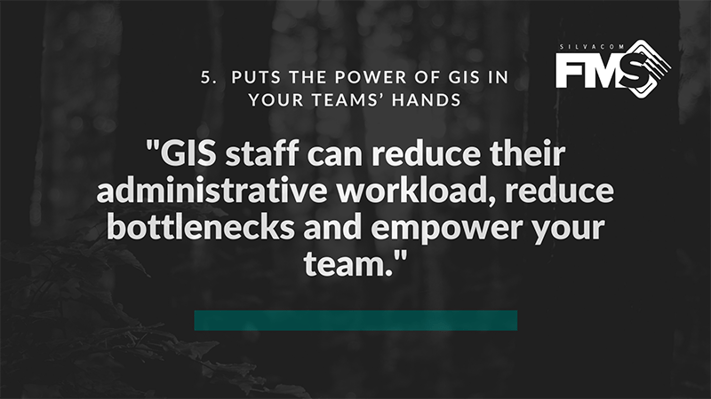 With a Silvacom FMS subscription, basic GIS requests can be handled by anyone on the team. This means in-house GIS staff can reduce their administrative workload, reduce bottlenecks and empower your team to:
Generate high-quality, georeferenced PDF maps with a quick and easy interface for non-GIS experts
Perform geospatial editing with just a PC and an internet connection
Manage road networks without GIS expertise
By reducing the tedious workload for your GIS staff, these individuals can be afforded more time to perform the complex analyses, which add even more value to your organization.
Why Invest in a Silvacom FMS Subscription?
Our forestry software is designed with input from our skilled forestry, GIS and technical teams and with feedback from world-class forestry organizations, who continue to use and trust Silvacom FMS for their forest management needs.
As experienced forestry professionals, we've been in your position, and we understand where you need extra resources and assistance. We designed Silvacom FMS to deliver the most value possible—every single feature is designed for you and your team to streamline your operations and keep you focused on your goals while lowering your risks and your long-term costs.
Next Steps
The best way to show you what Silvacom FMS can offer your team is through a web demo. Our demos are given by one of our experts in a no-pressure environment and are designed to afford you the opportunity to ask questions which helps you to evaluate Silvacom FMS on your terms.
Talk to you soon!