Why You Should Consider Using Cloud-Based Forest Management Software
While our world is changing, the vital role that the forestry sector plays in providing essential products and services is not.
We are a team of forestry professionals, who are dedicated and passionate about seeing the forest industry continue to succeed and grow. To help forestry companies address today's unique challenges, we created our cloud-based forest management system, Silvacom FMS™ (Forest Management System).
In this blog, we'll share how our cloud-based forestry software can help you meet modern forest management needs and enable your team to work more collaboratively and efficiently than ever before.
Watch the two-minute video to learn why you should consider using cloud-based forest management software.
What is Silvacom FMS?
Silvacom FMS is an Esri-based geospatial forestry software solution hosted in the cloud that offers sophisticated, powerful and easy-to-use workflows. The integrated system of geospatial cloud-based forest management applications empowers forestry companies to easily plan harvesting activities, track operations, manage silviculture, generate georeferenced maps and much more.
Simply put, it makes managing and sharing your data easier!

Looking for more information on forestry software? Check out our blog on What is Forestry Software?
What is a Cloud-Based Software?
Cloud-based software means that instead of having to use a local hard drive or log-in to your in-house network to access a corporate software solution, your software solution and its data is accessible on-demand from anywhere in the world via the internet through your favourite web browser.
With Silvacom FMS, you can securely access all your forest management data with just an internet connection and a user account, allowing you and your team to access all your information from wherever you are, whenever you want. These days, this unprecedented access is more important than ever.
Four Reasons to Migrate to Cloud-Based Software
1. Real-time Updates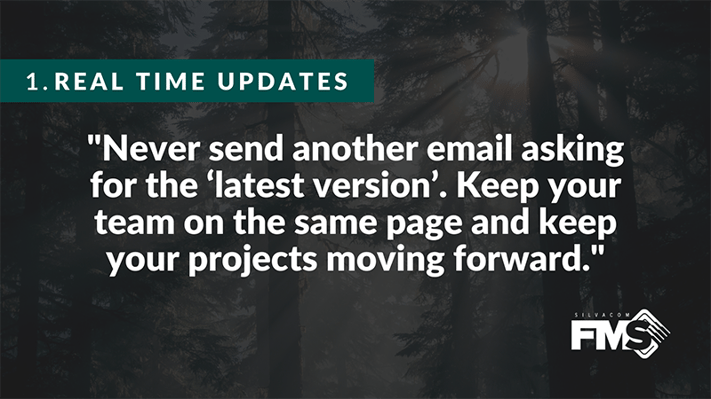 Cloud-based data management software has many benefits, including real-time updates, which means all changes are instant, giving users access to the most accurate and relevant information. There's no more digging through network files to find the most up to date information, a cloud-based, integrated data management platform takes care of everything seamlessly.
Never send another email asking for the 'latest version.' Keep your team on the same page and keep your projects moving forward.
2. Collaboration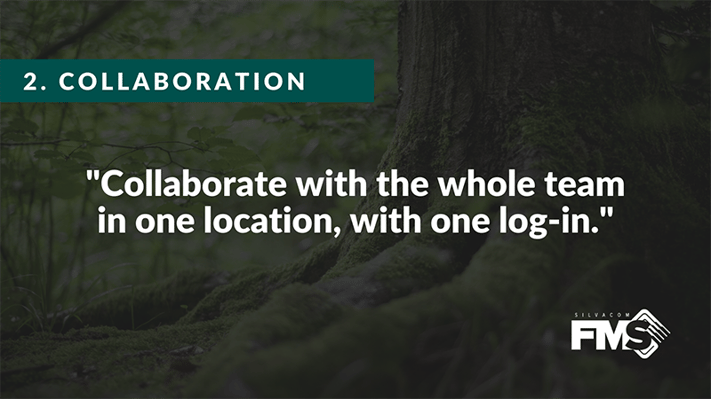 Your organization's success is based on effective collaboration. Often, this collaboration goes beyond your company and involves external contractors, consultants, Indigenous communities and other stakeholders. Effective collaboration enables you and your team to meet important deadlines and solve problems more efficiently.
Silvacom FMS makes collaboration easy as it connects all your forest management data and integrates with third-party applications, allowing you to manage all your forestry data from beginning to end. This keeps your information streamlined, organized and easy to understand; connecting your entire team with one system. Enabling access for external consultants or stakeholders is easy as all they need is a web browser to access the system! This type of flexibility is only offered through a cloud-based platform.
Collaborate with the whole team in one location, with one log-in.
3. Remote Access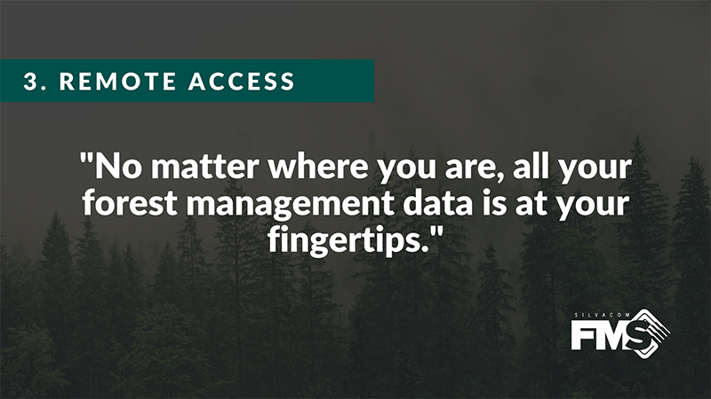 Silvacom FMS applications are accessible from anywhere, anytime; all you need is a computer with an internet connection. This remote access is incredibly useful for members working from home, on the road or in the field, allowing them to continue managing key data from wherever they're currently working.
No matter where you are, all your forest management data is at your fingertips.
4. Security & IT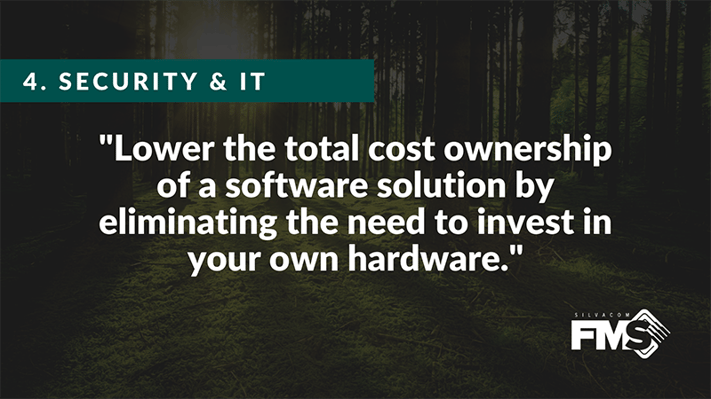 With best-in-class data security, routine backups and regular software updates, never worry about in-house infrastructure failures or infrastructure updates ever again. In addition, with all your software upgrades occurring without any effort required on your end, your team will have more time to focus on other corporate objectives.
Silvacom FMS also offers full configuration of your account's user permissions to ensure everyone has access to the information they need (or don't need), which helps to ensure your sensitive data is protected.
Lower the total cost ownership of a software solution by eliminating the need to invest in your own hardware.
Watch the two-minute video to learn why you should consider using cloud-based forest management software.
Trusted by Forestry Leaders
Silvacom FMS is trusted by large and small forestry companies and is the first choice for companies that want to keep their data safely stored in the cloud and consistent across all their operations.
"Silvacom FMS has enabled our planning team to seamlessly transition from working at the office to working at home. Team members can access the software through a web browser at home, just as they would at the office. This ability has been instrumental in maintaining productivity and meeting required deadlines while working remotely.
- Niska Hodgson, Planning Manager, Mistik Management Ltd. -
Next Steps
Our affordable monthly subscription fee covers all software, hosting and maintenance costs, helping you and your team lower your long-term costs.
Register for a demo with one of our professional foresters to learn more about Silvacom FMS, the most comprehensive cloud-based forestry software in the world.
Talk to you soon!