Switching forestry software isn't always an easy decision, and there are many factors to consider when deciding whether it's time to make the change. However, this complexity shouldn't hold your organization back from making a change that will drive significant business value for years to come.
Today, we're laying out seven signs it's time to consider switching forestry software.
In this blog, we'll cover:
The seven signs it's time to consider switching forestry software, including:
1. You Don't See the Same Value Anymore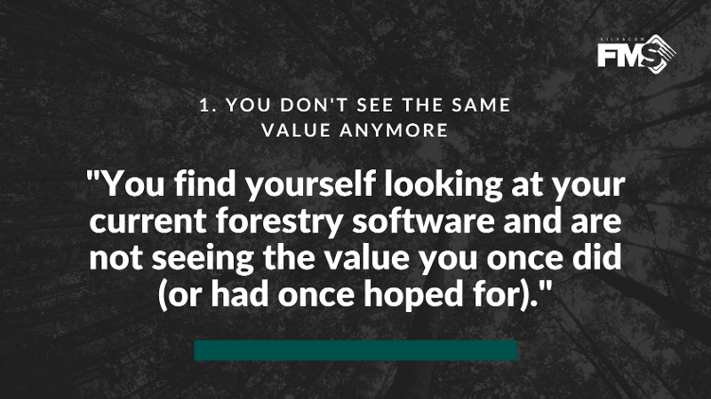 The forest industry changes fast, whether it's business requirements, technology advancements, government regulations or anything in between, so you need a software vendor that can adapt to these changes and ensure your operations run as efficiently as possible.
If you find yourself looking at your current forest management software and you don't see the value you once did (or had once hoped for), it might be time to think about a change.
It could be that your current software has underperforming features, unstructured workflows, poor or unresponsive customer support, IT issues or isn't user-friendly. In this case, you need to consider whether it is worth the continued investment. If you're not getting what you were promised or what you expected, it's time to discuss making a switch.
Look for a forestry software vendor that will grow with your business, who offers software that's continuously updated, efficient and offers the support you need to succeed.
2. It's Not User-Friendly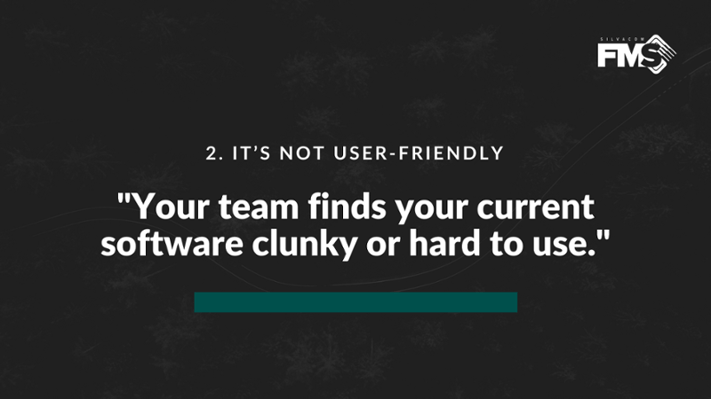 Software is most successful when staff use it regularly as part of their daily processes—it should make teamwork collaborative and perform at a high level.
Forestry software that is user friendly should be a top priority for all forestry companies, as it helps ensure teams will adopt it as part of their job, helping them accomplish tasks quickly and effectively. If your team finds your current software clunky or hard to use, then they're probably avoiding it or not using it to its full potential. If this is happening in your company, it may be time to look for more user-friendly forestry software.
The issue is that user-friendly forestry software is challenging to build and maintain. Software companies need to understand the software development process and how forestry companies do their job—Understanding how people use the software is critical and is often the piece that's missing from forestry software currently available in today's market.
Ask yourself these questions. Is your forestry software:
Designed by people who understand the forest industry (i.e. does the support team understand your unique industry challenges and do they have forestry professionals on staff)?
Designed with the user experience in mind (i.e. the way you do your job)
Adding structure to your workflows?
Helping you meet your company's goals better?
Easy to navigate and learn?
Designed to be scalable, to meet your company's growing needs?
Accessible anywhere with an internet connection?
Auto updated without any work required on your end?
If your current forestry software isn't meeting this checklist, it's time to consider a better option.
For a full checklist, download our free switching guide below:
3. "We've Always Done It This Way"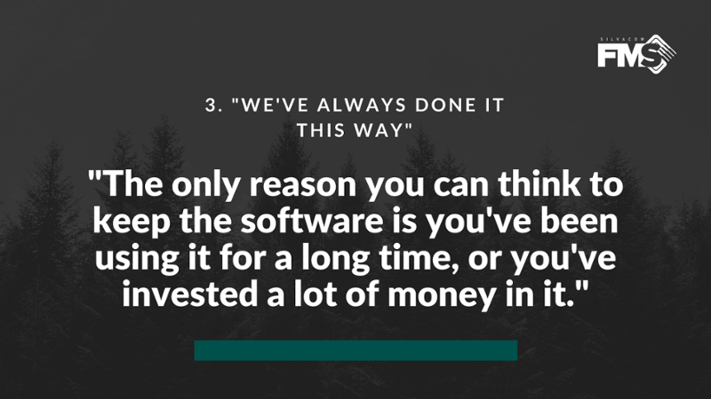 If your team has been questioning the value of your current software and the only reason you can think to keep it is that you've been using it for a long time, or you've invested a lot of money in it, this should be a big sign that it's time to consider the potential for better options.
Great software should feel irreplaceable—it should genuinely help you do a better job, and you should never have to search for reasons to keep software. While it's often hard to cut your losses on a big investment, suffering with an inferior product that doesn't drive your business forward is worse. If the only reason you can come up with is, "we've had it for a long time," it's probably time to think about switching.
4. It's not Hosted Entirely in The Cloud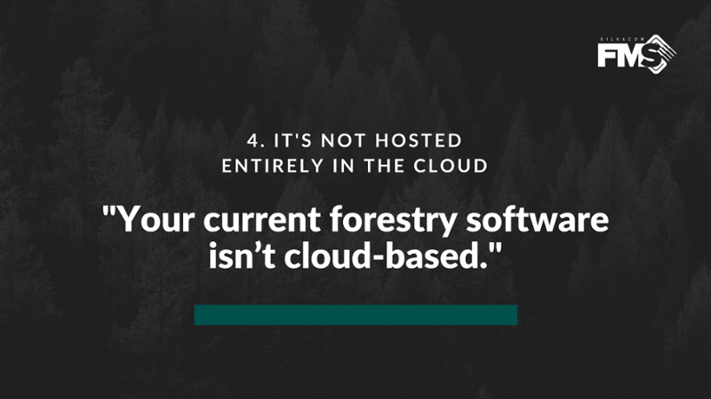 When you're paying for forestry software, you want to know that you're paying for the leading solution on the market. You want to ensure you're getting both value for your money while utilizing the best available forestry software to keep your team productive.
If you're currently using a forestry software that isn't easily accessible because it's located on a local hard drive or you have to log into your in-house network to use it, then you're limiting your team's ability to connect as well as their overall ability to work efficiently. Modern Software as a Service (SaaS) solutions only require a web browser, making it simple for organization to use.
Cloud-based software is essential, especially if you have employees working remotely or in multiple locations. With cloud-based forestry software, it's easier to work collaboratively, so your teams can work together on documents and data. You also don't have to worry about IT issues, like upgrades, backups, licensing or data hosting costs. Cloud-based software offers an all-in solution that saves a lot of money in the long run.
If you're not already using one there are 100% cloud-based forestry software options available, that help you ensure your data is secure and accessible and available on-demand from anywhere in the world via an internet connection.
Watch the two-minute video to learn why you should consider using cloud-based forest management software.
5. Customer Support is Lacking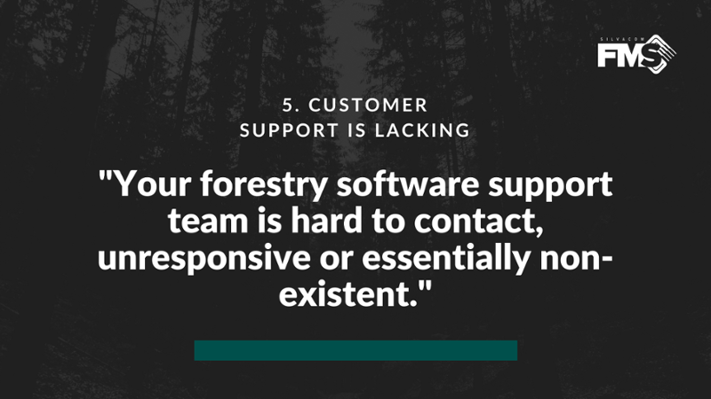 You'll inevitably need to contact your software support team, whether it's about potential bugs, better ways to utilize the software, training new team members, or just general software questions. However, if your forestry software support team is hard to contact, unresponsive or essentially non-existent, that's a significant sign it's time to consider a better option.
When we need help, we usually need it right away, and in a fast-paced industry like forestry, we don't have time to wait for a response. You should be able to contact your forestry software support team easily and feel confident that they will understand your request and respond promptly.
Poor support options can mean delays for your company that can cost critical resources. If your current forestry software vendor isn't dedicated to your company's success or doesn't make your team a top priority, it's time to switch to a software vendor who will.
6. Lack of Forest Industry Knowledge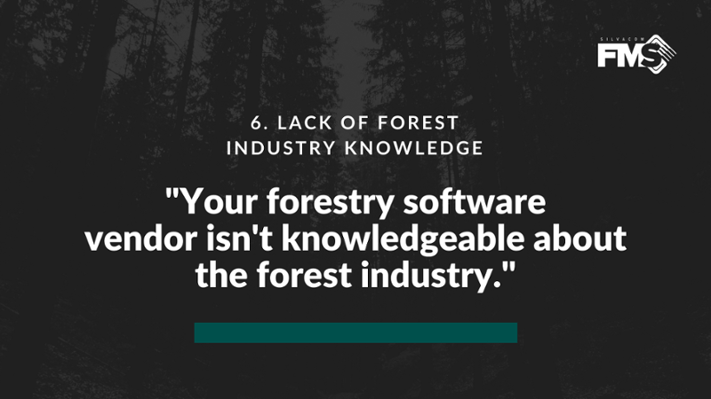 If your forestry software vendor isn't knowledgeable about the forest industry, they're not going to help you utilize the software in the best way. This doesn't make sense as there are currently software options built by forestry professionals with workflows designed for foresters.
There's no better way to guarantee you'll have access to leading-edge technology that meets the forest industry's unique requirements than by choosing an expert team that understands what you're up against.
7. It Hinders Rather than Helps Collaboration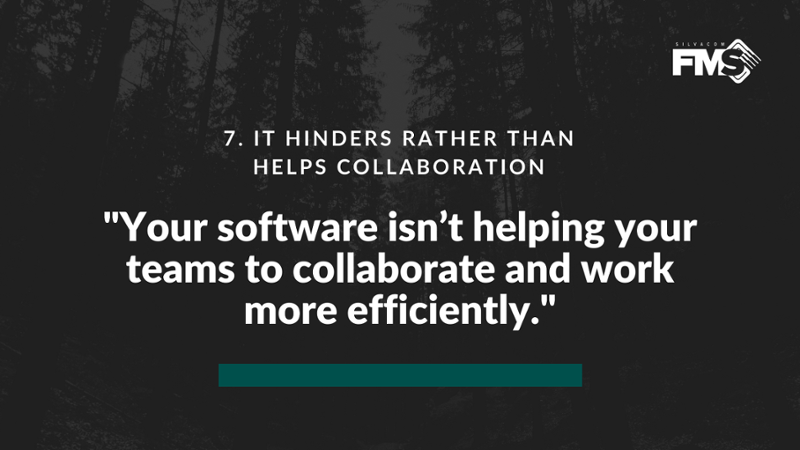 As we mentioned above, your software should help your team collaborate. However, software doesn't guarantee successful collaboration.
With the right software, your teams will know where to access the information they need, when they need it. They'll know how to loop in the necessary people, share relevant information in understandable forms and work together on documents, ensuring everyone stays updated and focused on your company goals.
If your software isn't helping your teams collaborate, you could be operating much more productively with a forestry software geared towards collaboration and success.
We get it; The Perceived Cost of Switching Software Can Seem Daunting
We understand the investment you've made to date must be considered when leaving a software vendor. It might feel like a loss of time and money; however, consider the long-term losses if you continue to use software that doesn't help your company operate efficiently to meet your goals. It's important to think past the initial investment and focus on the total cost of ownership when evaluating a new forestry software's long-term benefits. In addition, many vendors have already developed processes and procedures to make switching easier and more cost effective than it has been in the past.
Don't let your company fall behind with the wrong software when there are new and better forest management software systems available on the market.
Next Steps
Ready to see what else is available? Sign up for a demo of Silvacom FMS or join one of our monthly live web demos.
If you'd like a free template to help with your forestry software decision, download our free forestry software switching guide below!
About Silvacom FMS
Silvacom FMS is an Esri-based geospatial forestry software solution hosted in the cloud that offers sophisticated, powerful and easy-to-use workflows. The integrated system of geospatial cloud-based forest management applications empowers forestry companies to easily plan harvesting activities, track operations, manage silviculture, generate georeferenced maps and much more.
As experienced forestry professionals, we've been in your position, and we understand where you need extra resources and assistance. We designed Silvacom FMS to deliver the most value possible—every single feature is designed for you and your team to streamline your operations and keep you focused on your goals while lowering your risks and your long-term costs.